Learn to Sing like a Star- from the comfort of home for far less than the cost of in-person lessons, with this amazing online subscription course!
YOU can Sing Like a Star Course
This comprehensive course has everything you will need to sing stronger…sing higher…and sing like a star!
Over 700 exercises set to exciting music, along with an extensive manual that teaches you all about how your voice works!
The SLaS Method has trained:
Broadway Stars
Pop Stars
R&B and Gospel Stars
Country Stars
Winners on America's Got Talent, The Voice, and American Idol!
Everything You Need to Sing Like a Star!
Breath Management (Step One)
Belting (Step Two)
Singing High (Step Three)
Mix Voice (Step Five)
Dynamics, Flexibility, Power (Step Seven)
Style- Riffs and Runs (Step Eight)
Recorded exercises set to exciting and fun music tracks makes practicing a joy!
IN-PERSON LESSON EXAMPLE:
This is an example of an in-person lesson using the product. These are just a few of the hundreds of exercises in the course:
ZOOM LESSON EXAMPLE:
Here is an example of a Zoom lesson with a student who is working on Riffs and Runs applied to a song (Step Eight).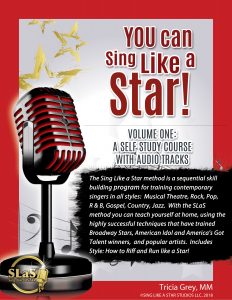 Monthly Subscription
For only $49.95 per month (far less than the cost of voice lessons) you will have access to over 600 amazing exercises and the Eight Steps of Vocal Development program that will take you from beginner to professional singer.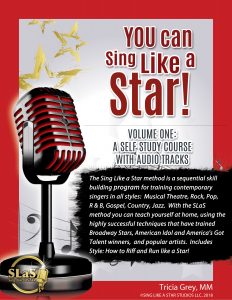 Yearly Subscription
Save the cost of two months' monthly subscriptions by purchasing the annual subscription ($499).
FAQ: Will this course work on my phone or mobile device?
Yes!  This extensive course with over 600 recorded exercises will work on any mobile device!  Of course your internet connection impacts how quickly the tracks load.  For quickest loading results we recommend using a computer (hardwired) and Google Chrome as your browser.  However, with good wi-fi, you can access this course with any mobile device.
FAQ: How does the course work?
The course has two elements: instruction and exercises.   The instruction section in each chapter teaches you all about how the singing voice works, and the science behind the Sing Like a Star method.  The exercises guide you through Eight Steps of Vocal Development, starting with breath management in Step One, all the way through style, riffs and runs in Step Eight.  Over time, you develop all the skills you need to become an amazing professional singer.
FAQ: What if I need more help?
We are always here to help at Sing Like a Star.  You can book private sessions with studio founder Tricia Grey, MM, or with a Sing Like a Star Associate teacher by visiting www.singlikeastar.com.  Click on the GET STARTED WITH AN INTRO tab
FAQ: How long does it take to learn to sing like a star?
That question comes up often.  You can compare the process of becoming a great singer to becoming a great athlete or dancer.
Athletes and dancers spend years developing specific muscles by doing exercises, increasing strength over time.
The process of becoming great takes time, and daily practice.
But there are a lot of levels between beginner and great!  With this method you will see IMMEDIATE changes in the power and tone of your voice.
But it's up to YOU to provide the daily hard work to develop into greatness.  This course will give you the tools.  It's very extensive and deep.  You will get the results you are looking for if you work the tools in this course, daily!